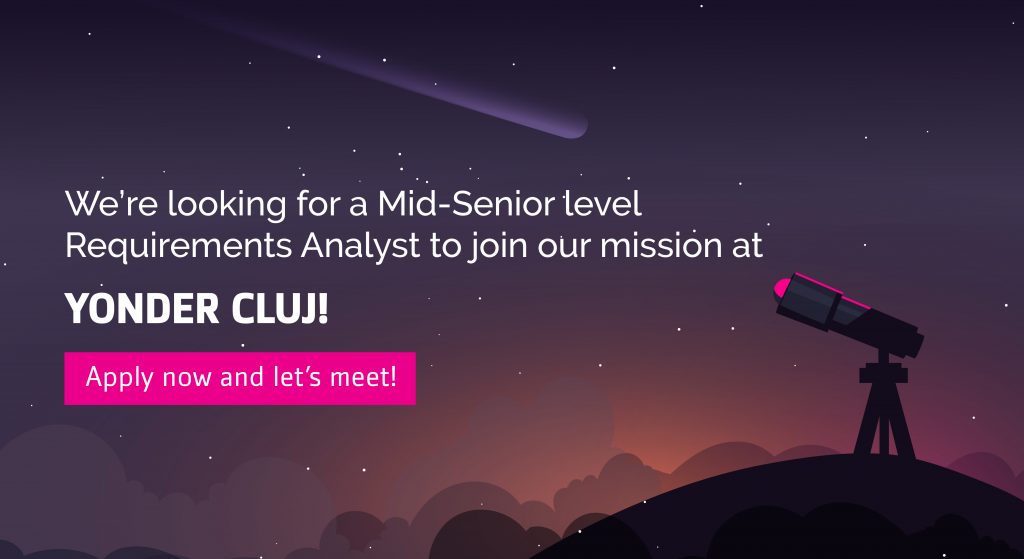 We're opening a new world of possibilities
You're welcome to join the fun and… help us build a bridge between our customers and the development team by identifying high-level requirements, transforming them into detailed functional documentation and ensure their correct implementation. You will keep up with business trends and based on those, propose solutions and improvements for the application's effectiveness. Moreover, in our team we are fully responsible for the technical solutions and quality of the delivery, while we manage to keep a very strong relation with the client.
For this project we anticipate that the start date will be at the beginning of next year.
If you'll join us you will have…
access to various growing programs
access to various learning materials
access to courses and trainings
exposure to the client
awesome Agile team
passionate colleagues and growing environment
Responsibilities:
Document and manage functional & non-functional requirements from the client
Translate the client's requirements into development-ready user stories
Analyze current business processes and suggest improvements
Act as a liaison between the client and the software development team
Provide support to the development team to ensure the correct implementation of requirements
Requirements:
At least 3 years of experience working in a similar role
Experience with requirements management, issue management or ticketing tools
Knowledge of relational databases systems and ability to create datamodels
Ability to model business requirements using UML
Ability to create prototypes and mock-ups
Strong communication skills
Proficiency in written and spoken English
Very good analytical, conceptual and problem-solving skills
Able to effectively manage your time
Able to quickly adapt to new business domains
Familiar with Agile principles
What values are we looking for?
Continuous improvement mindset
The ability to challenge (the client, the team)
Team player
Passion and curiosity
Sense of ethics, integrity
Entrepreneurial and innovative mindset
Professional attitude
Apply now!
Please note that by applying to this role you are being informed about your personal data being processed by Yonder.
You can find more details here: https://tss-yonder.com/privacy-policy/.