On November 21st  we will have the opportunity of discussing a very hot topic: the future of the IT industry in Romania. Varujan Pambuccian, member of the IT and Communication Commission of the Chamber of Deputies will discuss with us, in Yonder, this very subject.
The visit is part of the project "The IT caravan: the future of IT in Romania" organized by the PIN Magazine and the Griffiths School of Management. The project includes meetings with people working in IT and with students. The goal of the project is to get an input from people in the IT industry on future improvements, to raise awareness in the local communities of smaller cities in order to this way achieve domain improvement.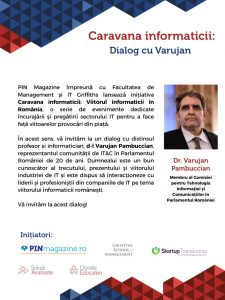 STAY TUNED
Subscribe to our newsletter today and get regular updates on customer cases, blog posts, best practices and events.
Subscribe