Get Rapid Quality Assurance out of your low-code platform
Using the OutSystems platform, you can develop new functionalities quickly and improve your time-to-market. This gives you a great advantage over your competitors. But now you have a new challenge: how do you deliver and deploy at the same speed as you are developing new functionalities?
Every aspect of OutSystems is crafted to help you build better apps faster and make changes easily. Visually develop your solutions based on business logic. This means that the complexity now lies in the business rather than in the technical logic. Has that been addressed correctly in the new features? And can you keep your maintenance costs low to get a good ROI for your rapid development?
Our Automated Testing is a tool to help you deliver quality quickly. It tests between 50 to 80% of the requirements and logic in a fraction of the regular testing time. It doesn't mean that no manual testing is needed, or that it solves all issues, but it dramatically speeds up testing cycles and gives your testers time to deal with any other deep issues at hand.
THE BENEFITS OF AUTOMATED TESTING: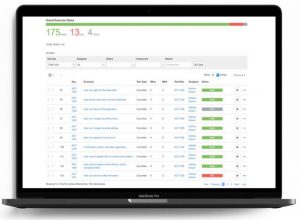 Greatly improve your time-to-market
Consistent user experience through bug-free deployments
Cost reduction by catching and solving issues very quickly
Fully automated workflow loop involving all stakeholders
Download the flyer to find out more about how Automated Testing can help you. (Click the link or the image below.)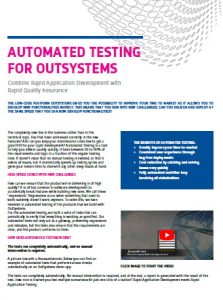 Automated Testing for OutSystems
STAY TUNED
Subscribe to our newsletter today and get regular updates on customer cases, blog posts, best practices and events.
Subscribe