Our Experience with Mobile Solutions
Yonder has a lot of experience in creating mobile dimensions in a variety of technologies (web, native, open source or a particular technology required by our customers.) Join our webinar on Thursday, 6 April and find out how we can help you.
As promised in my previous blog post, I will share some examples with you.
AMCS/GMT, the market leader in software for waste management, was asked by their customer the Port of Rotterdam to realize a mobile solution for them, that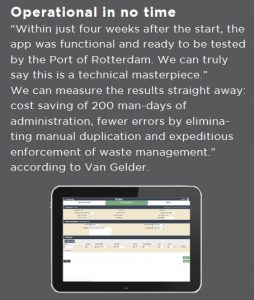 would cover the waste collection of the smaller shipping companies and connect to the Harbor Management Information System. So AMCS/GMT turned to us, their long-time partner, to develop a mobile-only app which had to be finished in one month's time; that is from the absolute beginning to in production within 30 days. Together with Yonder and the Port of Rotterdam, AMCS/GMT defined the functionality, which was then designed and developed by Yonder and within the short timeframe, we had a mobile solution to realize the ambitions. This was more than a Minimum Viable Product (MVP); it was a complete solution. Find out what Ron van Gelder, advisor of the Port of Rotterdam, has to say about the solution. We were extremely proud as the project was nominated for a prestigious award in the category enterprises, among large enterprise initiatives.
Social Affairs is a business unit of PinkRoccade that focusses on the social aspects that have become the sole responsibility of the Dutch municipalities in 2015. That meant that they needed to revise their operational processes for youth care, education, work and naturalization, income, care and welfare, and debt counseling. Reducing the complexity of these tasks by managing them efficiently.
In a relatively short time, apps had to be created that seamlessly fit the different roles within the social domain: from family members to professional care providers, to the coach. "We wanted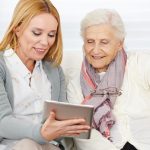 to be the first on the market to offer a fully integrated solution for the decentralization challenges the municipalities would face. With the help of our development partner Yonder, we were able to scale up quickly. Yonder took responsibility for the architecture, the detailing of requirements and the development while safeguarding our objectives during the engagement." Says Patrice Geffen, Managing Director of Social Affairs at that time. Read the business and delivery case to find how we realized these ambitions.
Quli stands for Quality of Life. Most healthcare platforms cater to the needs of the care professionals, but Quli gives the people control over their healthcare. It has a secure social network, a personal healthcare dossier and an open source app store, where apps can be placed that can support the clients. Quli was the winner of the Computable Awards in 2015 in the category IT project of the year for healthcare as it is pioneering in the way it combines social media and e-health and as it is uniquely designed for the target audience. It also has a great impact on the way care is provided.
For all our clients, going mobile is about fulfilling demand. It is a business objective that is realized by technology and a quick, carefree, professional delivery. Our mobile campaign allows you to take the first steps to realize your ambitions, whether you want to go mobile quickly for a software product or whether you want to discuss a strategy first as you have a need for multiple mobile apps.
Give us a call and find out how we can help you. Attend our webinar on Thursday, 6 April, or email me and I will get back to you.
Kind regards,
Mihai Nadas
Managing Director Yonder
Webinar Embracing Mobile
Thursday, 6 April 2017
16.00 – 16.30 CEST (Amsterdam time)
Get a mobile dimension for your software system. There are many reasons to go mobile, such as:
creating new opportunities for upselling
stopping attrition
expanding your customer base
extending the life cycle of your product
Register for the webinar now and find out how we can help you with our mobile expertise in creating new opportunities for your business and product.
Register here! We look forward to seeing you at the webinar.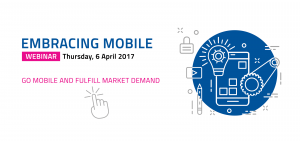 Customers who have gone Mobile with Yonder
STAY TUNED
Subscribe to our newsletter today and get regular updates on customer cases, blog posts, best practices and events.
Subscribe