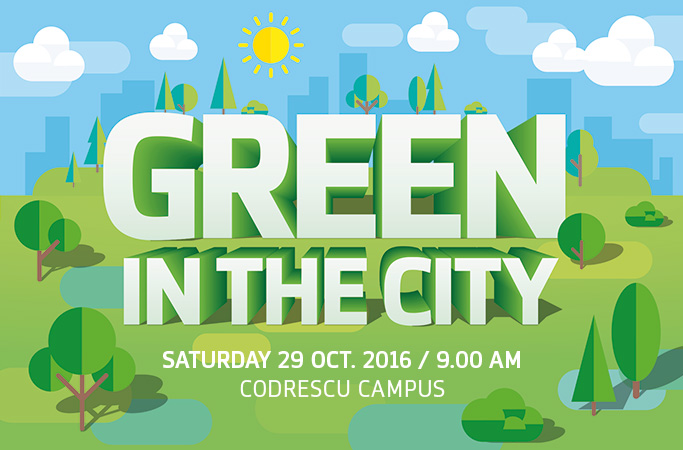 On October 29, we will come together to plant trees in the Codrescu campus and we invite you to join us! This is our message, in short", says Cătălin Ciobanu, Career Manager in Yonder, talking about the Green in the City campaign.
 Green in the City was born as an initiative of the Yonder team, in which the Computer Sciences Student Association in Iași (ASII) and the Plantăm Fapte Bune Association gladly joined. The three teams aim to recruit volunteers to help planting linden trees and decorative shrubs.
The Codrescu Campus hosts 2,000 students, who will be helped by the campus staff, by the employees of the administration units (Direcţia Servicii Sociale Studenţesti – D.S.S.S., Direcția de Schimburi Internaționale "Gaudeamus- Akademos", Centrul de Informare Profesională, Orientare în Carieră si Plasament – CIPO, Biblioteca de Litere și Biblioteca de Istorie a UAIC) and by the numerous visitors. Right now, the green space is in a very poor condition and it needs serious refreshment.
" With this project we are trying to restore and update the green areas in the Campus. We already have the linden trees and the "golden rain" shrubs ready to be planted this Saturday. Because it is recommended to only plant trees and shrubs in the fall, we will come back next spring to finish the works – we will help cleaning the green area, we will plant lawn and other season-specific shrubs. We believe it is our duty to contribute to a healthier and more inviting environment for the students in Iași, our future colleagues", says Cătălin Ciobanu.
"We are well-prepared for this event. We have plants ready, tools, snacks and hot tea for everybody. We are hoping for a pleasant event, we plan to have fun together and to do a great job! I am excited about the partnership with ASII and Plantam Fapte Bune. And what brings me even more joy is the feeling that we are now doing something meaningful and sustainable both for the local community as well as for the students", Cătălin concludes.
The only thing that could stand in our way is the rain. If it rains on Saturday, the event will be postponed for the following weekend.
STAY TUNED
Subscribe to our newsletter today and get regular updates on customer cases, blog posts, best practices and events.
Subscribe