A strategy for software initiatives
Doing new development that bolsters organic growth is difficult enough, but just building stuff is not enough. It would be best if you had a little bit of strategy in it.
Let's face it, as a company, you are successful because you have customers. And you have customers because you have a feature-full product that you have built over the past couple of decades. But unfortunately, that also means that your product is not necessarily the newest, coolest, nor nicest kid on the block. So, you know that keeping your customers happy is essential so that means that it is vital that you keep yourself busy building important stuff. But while you are building important stuff, who's keeping an eye on the competition?
Software strategy: a defensive and offensive budget
One idea is that your R&D effort should be split between a defensive budget targeted at keeping your current customers happy and an offensive budget to keep your product competitive and win new customers. With your defensive budget, you will make sure that you can implement all those features and improvements requested by your customers. You apply your offensive budget to building functional innovations on top of your software that will align your solutions with the ever-changing trends of the market and times.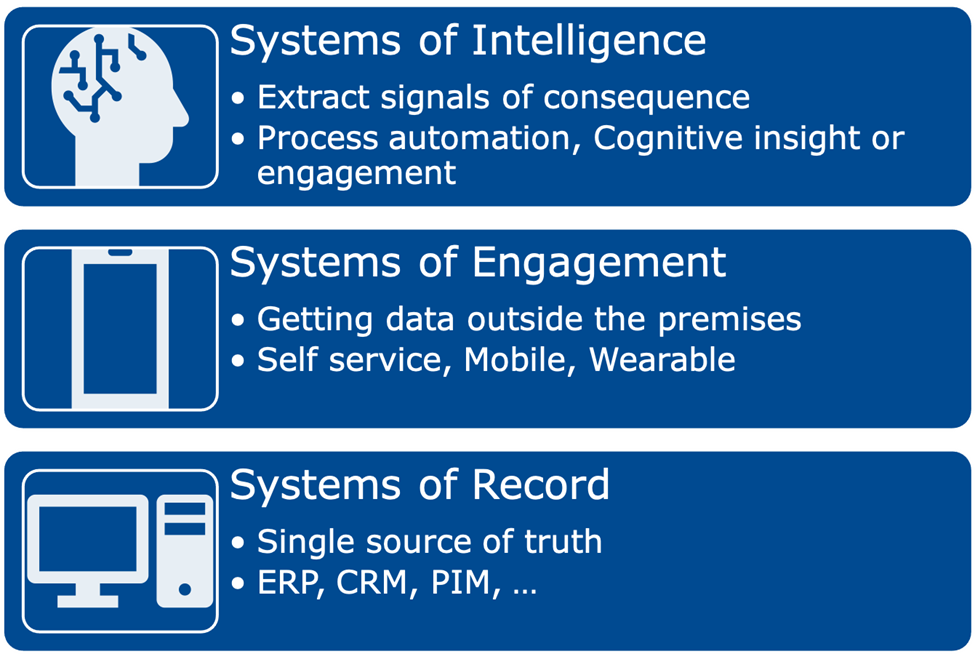 Systems of Record
With a few exceptions, a VMS's core system will be a system of record, the type of ERP/CRM/PIM system used for storing and processing critical business data in the specific vertical you are operating.
These systems are core to your customers as they store the essential data and processes that are at the center of your systems. In addition, that data represents the single source of truth for anything related to business data.
These have been the critical systems in the past decade, but nowadays, customers expect more from their IT systems. I'm sure you heard about systems of engagement.
Systems of Engagement
They are job-based focused applications that allow specific personas in your customer's organizations to engage with the data stored in the systems of record in a more targeted and focused manner. For example, think about the mobile application used by your field service personnel or your inventory check solution the warehouse staff uses. These point solutions allow specific personas to perform better using their focused IT systems that are adapted to their particular operating environment which are often outside of the on-prem systems of records.
Systems of Intelligence
But wait, there is another level, one of the systems of intelligence. There is a lot of insight into the data stored in the systems of record, but the meaning of that data is hidden most of the time. How about using the developments in data science, business analytics, and machine learning to create systems of intelligence that help your users automate some of the decision flows?
How to split your budget
The idea of pouring your R&D investment in only the systems of records leaves a lot of opportunities open for your competitors or new startups. Options that could ensure that you have happy customers and that your customers are confident that your company is the most suited to take their business to the next level by providing the technology innovations that are perfectly matched with functional innovations. Doing new initiatives and organic growth is very important but also making sure that you are hitting the various levels of the systems maturity level.
What proportion of your budget should you allocate to new initiatives for each category? That is a good question. Whatever it is you need to make sure that, as time passes, you invest more in the higher levels. You will hardly stay competitive if your sole focus is the system of record, that is the place where the competition is fierce.
Divide and conquer
And if you don't feel confident that you have the right skills to master all these new developments in technology, don't be scared to look at a technology partner like Yonder that can augment your core team with the right expertise. We have specialists that can help you with the technical side of your roadmap, expertise to help you make or validate your technical choices for the future, and the related budget division. And we have professionals that can help you experiment with new initiatives through hackathons and small and pragmatic experiments. These experiments can (upon validation with your customers) turn into new initiatives and organic growth. By adding a technical equivalent to your extensive domain knowledge helps you cover and review all the areas.
So does your strategy for software initiatives include a defensive and offensive budget?
Remus Pereni,
CTO Yonder
Should you have a strategy when deciding which initiatives to invest in?
STAY TUNED
Subscribe to our newsletter today and get regular updates on customer cases, blog posts, best practices and events.
Subscribe