Celebrating our 15th anniversary with AMCS
In 2022, GMT (now part of AMCS) and Yonder celebrate their longstanding work relationship of 15 years. And these types of relationships are very similar to human relationships, with their ups and downs. Yet when both partners feel the relationship is beneficial to them, they invest time and effort, and the outcome is better than the sum. In this case, the partnership started with development but later included marketing.
A time with many changes
It all began when outsourcing was basically still capacity-based, a company needed extra hands, and Yonder delivered. Since then, a lot has changed, and not just the way we now provide value-adding services. The collaboration started in 2007, which was also when Total Specific Solutions acquired Nethrom, which would be rebranded as Yonder in 2008. TSS then became part of Constellation Software Inc. in 2013 and GMT part of AMCS in 2016. And through all those changes, the relationship continued.
Mobile app for the Port of Rotterdam
Today we will focus on marketing. In 2015, GMT had a request to create a mobile app for the Port of Rotterdam. Yonder created the app in a very short time using a then-new technology that fit the GMT requirements. We wanted to celebrate and make some noise in the market, so we thought shooting a video on-site in the port of Rotterdam would be nice. At the same time, the project was nominated for the Computable Awards (annual Dutch tech awards), so we could use the video to get extra attention for our project.
Shooting a video of the collection process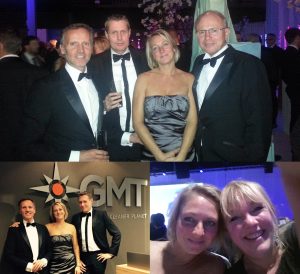 Danielle Nierop and I had met before but not worked on such a big project as this one. It was a great day in the port of Rotterdam, impressive to be in such a big port and see how waste is collected from the smaller ships. We had a similar idea for the final vision of the video, and the energy at the shoot was just right. As icing on the cake, we attended the awards ceremony and had a great evening.
"When you build a relationship in a relatively short time that is based on mutual respect and interest, then it doesn't feel strange if after several years you reach out again. You pick up where you left off and continue. Becoming part of AMCS meant that I now had to focus on the international market, and my life became hectic setting out this new direction. Yet when Monique called, it was as if we had spoken just six months before." Says Danielle.
"During the filming, we found out that we have a similar passion, dogs. So, we connected on social media and followed the dogs' adventures, and we still do. It is one of those working relationships that you hope will continue as a personal one over time." Says Monique
Next time we will look at other parts of the long-term collaboration between AMCS and Yonder. And for now, we will leave you with the video of the Port of Rotterdam.
Long-term partnerships from development to marketing
STAY TUNED
Subscribe to our newsletter today and get regular updates on customer cases, blog posts, best practices and events.
Subscribe