Our client Lupl announced global release with unlimited-time freemium offer.
Lupl is the collaboration platform for the legal industry, developed with the support of a group of leading law firms and legal departments, and designed to uncomplicate the way lawyers and clients work together. 
Lupl and Yonder have been a good match as both companies focus on improving operations through software, applying technology to get better results. So when Lupl approached us, we were more than happy to be a part of this.
Yesterday, November 2, 2021, Lupl, the collaboration platform for the legal industry, announced its global release and pricing.
This release makes the platform available to the wider industry for the first time, with users from law firms and legal departments able to sign up for free and in less than 60 seconds through the newly launched website at www.lupl.com and iOS app.
Lupl is a shared workspace that eases the challenges law firms and legal departments typically encounter when working on legal matters within and between organizations. In addition to a native suite of communications, collaboration, document sharing, and legal project and knowledge management capabilities, Lupl integrates with many of the most popular third-party tools, including Microsoft Teams, Slack, iManage, Net Documents, SharePoint, OneDrive for Business, Google Drive, Zoom, DocuSign, and Litera compareDocs.
Lupl has been in early adopter mode since April, following the completion of a successful private beta test in 2020. Law firms, legal departments, and other legal organizations in more than 30 countries are already on-board with industry interest from across the globe continuing to grow.
Jeff Green, Lupl's Chief Executive Officer, said:
"We've been counting down the days with great anticipation to make our collaboration platform more widely available, and to welcome more legal departments, law firms and other legal market participants to the international Lupl community.
"We're grateful to our advisory board, customers and partners who have worked so closely with us during our beta and early adopter programs to bring us to this point."
Lupl's "bring your own system" design approach allows organizations to connect the platform with a range of tools and systems. For example, in addition to Lupl's web, mobile and desktop apps, organizations who use Microsoft Teams will be able to leverage Lupl's functionality as a native Teams app.
Rima Reyes, Principal Program Manager in the Teams Ecosystem at Microsoft, comments:
"Lupl is continuing to digitally transform the international legal community. With the new Lupl app for Microsoft Teams, lawyers can easily bring all the moving parts of a legal matter – documents, status, scope, and tasks – together in one place."
The rollout marks the kickoff of Lupl's freemium offering, a relative rarity within legal tech. Different to a free trial, the freemium offer allows law firms and legal departments to use core features for free for an unlimited time. Paid offerings, with richer features and deeper integrations, will start at $29 per user per month. Law firms can invite their clients to join matters for free; similarly, legal departments can invite outside counsel and non-legal department users to collaborate at no additional cost.
The Lupl technology was co-developed by a multinational community of legal departments, law firms and other industry stakeholders who in 2018 identified a major pain point around legal matter collaboration and agreed to pool knowledge and resources to solve it. The technology was spun off as an independent company in 2019 after investment from CMS, Cooley and Rajah & Tann Asia.
Adam Ruttenberg, Cooley partner and Chair of the firm's technology committee, comments:
"As a firm committed to superior quality, service and innovation, we believe that a platform like Lupl is what our lawyers need. Through beta testing and early adopter programs, we've seen how Lupl helps our lawyers and clients stay on the same page, providing enhanced communication, collaboration and document sharing and enabling our lawyers to act as a seamless extension of our clients' teams."
Other Comments
Lee Eng Beng, Senior Counsel and Chairperson of Rajah & Tann Asia, comments:
"Adoption has grown faster than anything we've experienced for any other legal technology platform. We've found that the simplicity of the user interface and the ability to integrate with our document management system have meant we've been able to get this rolled out across our firm quickly and without the need for heavy training."
Duncan Weston, Executive Partner at CMS, comments:
"As a future-facing law firm involved in Lupl since the beginning, we have eagerly followed the platform's trajectory from concept to reality. Lupl transforms how we work within the firm and with clients."
Visit Lupl's website if you want to know more about the collaboration platform.
And watch this space for future information on the platform and the collaboration.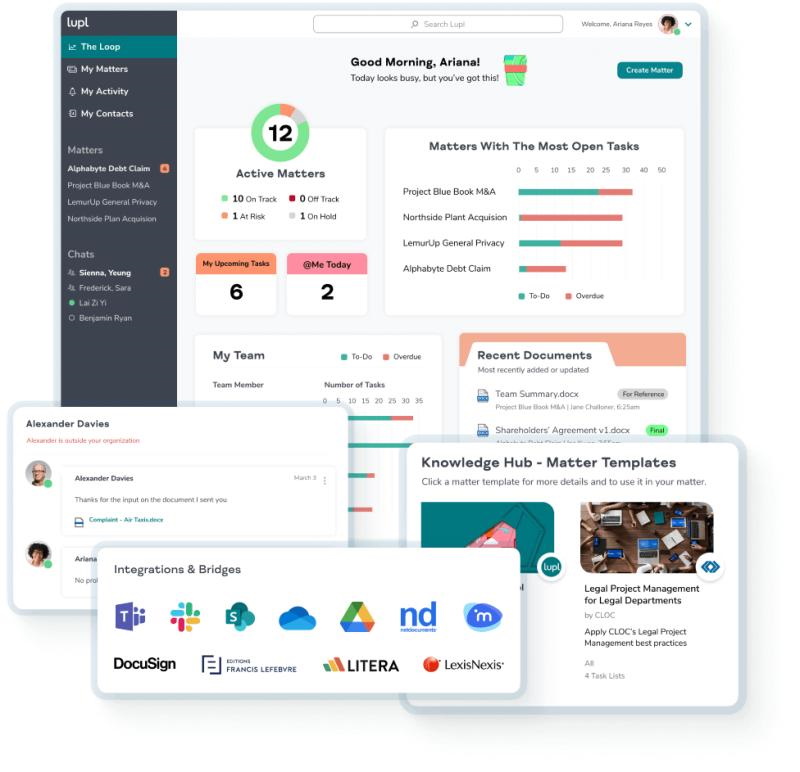 Our client Lupl announced global release – Legaltech
STAY TUNED
Subscribe to our newsletter today and get regular updates on customer cases, blog posts, best practices and events.
Subscribe