Yonder is helping its clients to focus on their customers by removing the burden of software development, its agile, team-based approach enabling it to innovate at speed and empower employees.
EME Outlook approached one of our Managing Directors, Cristian Inceu, to give an interview on our company, the reason why he joined Yonder, and why he chose to enter IT in the first place. And what makes Romania such a hotbed for technical talent.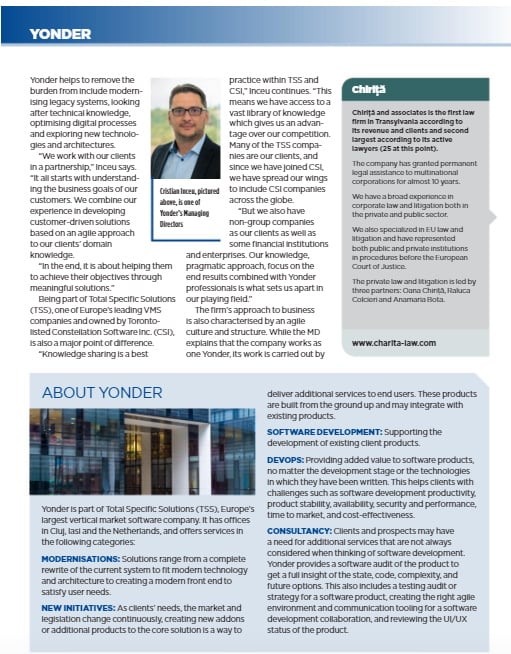 A small excerpt from the article:
Cristian says "As a child, I was fascinated by mathematics and pursued this passion ever since I was 10 years old. I entered all the possible competitions at a national level and when I had to decide on my future, I knew it should relate to science and technical education."
When Cristian joined Yonder, a year later his friends from university followed, colleagues who now help to run the company with Inceu serving as one of the firm's Managing Directors.
"We are still in Yonder and still having fun," he quips. "It is difficult to say if Yonder shaped us or if we shaped Yonder because it's difficult to spot the difference."
"We work with our clients in a partnership," Inceu says. "It all starts with understanding the business goals of our customers. We combine our experience in developing customer-driven solutions based on an agile approach to our clients' domain knowledge. In the end, it is about helping them to achieve their objectives through meaningful solutions."
The firm's approach to business is also characterized by an agile culture and structure. While the MD explains that the company works as one Yonder, its work is carried out by a series of small, flexible teams. The result is a flat structure of empowered business units, groups which are known individually by the senior management who also build relationships with individual colleagues and clients.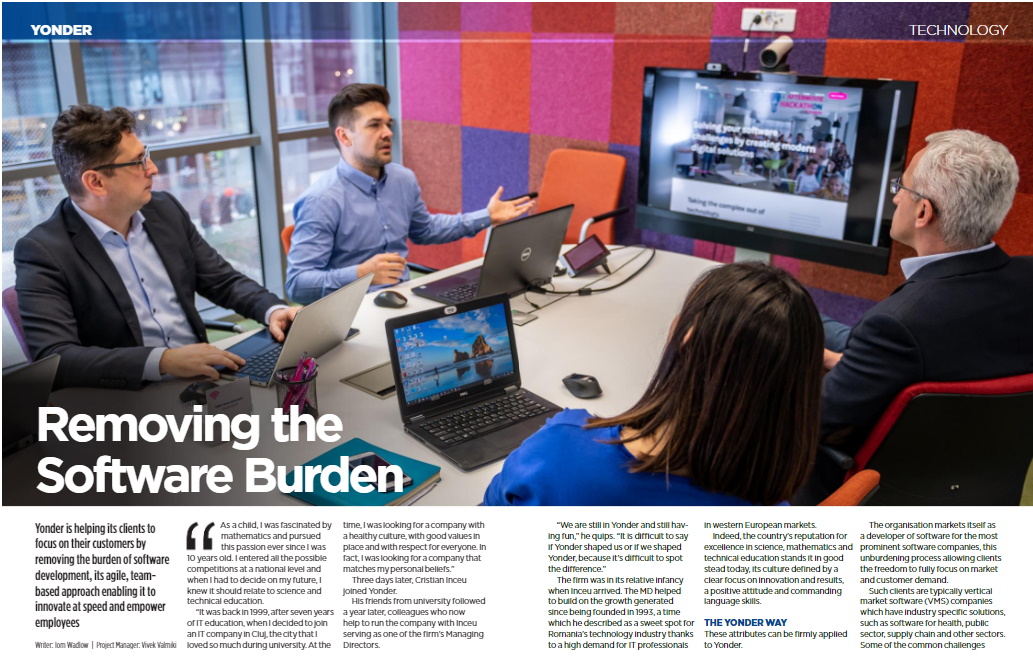 Looking ahead to the future, the MD concludes: "We have created a global presence over the years with clients in Europe, North America, and Australia. Our goal is to expand our foothold in those regions. It makes for interesting engagements working with different cultures, and also makes Yonder an interesting company to work for in Romania."
Below you can find the article in the magazine and the special Yonder profile.
Click on the images below. Our feature starts on page 36 of the magazine shown on the left and the company profile is on the right.
With a special thanks to our colleague and photographer Claudiu Chetan.
Removing the Software Burden – EME Outlook
STAY TUNED
Subscribe to our newsletter today and get regular updates on customer cases, blog posts, best practices and events.
Subscribe