Silviu Niculita our Chief Techie, has been invited to speak at the prestigious ITCamp 2017. For those of you who don't know ITCamp, it is an international community conference for IT professionals held in Cluj, Romania. Since its first edition in 2011, it has grown to a 2-day event with 40+ speakers from all over the world in 5 different tracks and has 600+ people attending.
One of these speakers will be our own Silviu, a passionate software developer and technologist who loves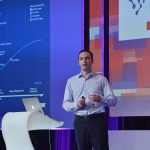 solving business challenges with cutting-edge technology. His areas of interest are around how small teams can be most effective in building real software: high-quality, secure systems at the highest limits of robustness, performance, and flexibility. His suitcase full of hands-on experience in various technologies at different multi-national companies makes him a much-invited presenter at national and international events. More details on the subject of his talk at ITCamp 2017 will follow when the date nears.
To find out more about ITCamp 2017 and Silviu's presentation, follow this link.
STAY TUNED
Subscribe to our newsletter today and get regular updates on customer cases, blog posts, best practices and events.
Subscribe