Staying in control even during a crisis
This current situation that we all face globally is for everyone an exercise in resilience, a moment to rethink our lives, to model our characters, habits, and behavior. It is a time when strong leadership in countries and companies is needed. And the essence of strong leadership is transparent communication, compassion, and building trust for the future.
Our business as a service company is all about people. It is up to us to create a safe and secure environment in which our colleagues can work. The work environment must be secure from a technical perspective and meet the highest standards. And the work environment should enable our colleagues to work happily and healthily. Having these measures in place, we can focus on business continuity and delivering quality work to our clients.
Vulnerabilities connect people
This new unknown situation makes us feel vulnerable. We now have to stay safe, be responsible, and above all, stay connected to support each other. In our industry, we can work remotely and have virtual teams. To prepare and check all our systems and processes, we had run a test at the beginning of March. Right now, the feedback is that we were on top of things. We are analyzing the risks continuously and taking proactive measures ahead of others in the industry. That makes us feel secure.
The idyllic situation of working from home means you choosing for it – now, it's no longer a personal option but a constraint. So how do we stay well-grounded, productive and keep our emotions safe? It all goes back to re-shaping our habits – create new ones to fit the current context, at a group, but also on an individual level.
Belonging to a group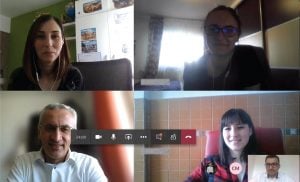 Belonging to a group/team makes everything more comfortable; we are in this together. The new virtual interactions replace the old physical ones. We try to transfer as much as possible from what we used to do in the new setup. This means keeping close to your teams, colleagues, managers, collaborators, and creating new ways of enjoying work and life. There is no difference between individuals – we are all in the same boat, and we stick together. This connects and unifies us.
New routines
We are forced to create new routines. These routines, when intentional, can accelerate learning, creativity, and focus. The perseverance in setting up personal goals that you can rely on gives sense and meaning.
In control
Better planning reduces the uncertainty and moves the focus from ambiguity to things that are in our power to influence. We all know that self-discipline and willpower reduce anxiety – rules enable us to make the little things we do more predictable.
Self-awareness
As the noise of the office hustle and bustle no longer deafens us, we can now reflect on emotions, feelings, and make sure we keep the channel for discussion open. We all learn the hard way, and that makes personal growth stronger. We can coach and mentor each other, offer support where needed, no matter what the formal role inside the company and team is.
Communication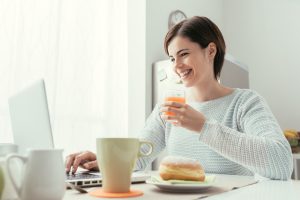 Communication is always essential, and now, more than ever, we need to make sure we continue to communicate. We can no longer guess we have informed the other correctly because we met in person. Now, we have to reach out, connect, make sure that everybody understands the same thing. We need to have work meetings and virtual coffee sessions to continue the bond that we have. For us, it is a unique moment and learning practice to review how our clients perceive our communications with them. We are now in the same boat relying primarily on virtual interactions, and that gives us the chance to see if we are doing that to the best of our abilities.
Result-driven
And of course, we are action-oriented. That means we do our tasks, focus on our contributions and the deliverables, we just had to change our environment a bit.
Eventually, everything that we experience due to this situation will help us to build a stronger version of ourselves. It will model the virtues of our character. If we make an effort, it will bring us closer together, checking in with each other regularly to see how colleagues are doing and if they need help with their work. We can no longer assume but have to make a conscious effort. It deepens our understanding of our customers' situation.
Georgiana Planker
HR manager and business partner at Yonder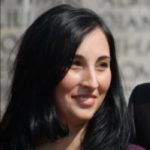 Strong leadership through transparent communication
STAY TUNED
Subscribe to our newsletter today and get regular updates on customer cases, blog posts, best practices and events.
Subscribe