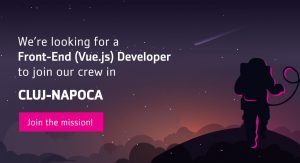 Yonder has been developing software for over 25 years, for the most prominent software companies. Collaboration is key, with the product software company as domain specialist and Yonder as technology specialist.
We are looking for people willing to think independently, take initiative and be innovative.
Your journey will start by joining an existing team which is developing a new modern web application for school management (with .NET 5 and Vue.js).
If you'll join us, you will have:
access to various growing programs
exposure to the customer
be part of the project intake process, assess and propose project improvements
awesome Agile team
possibility to improve reverse engineering skills
Benefits like work from home during pandemic period, flexibility to work from home adapted to our policy, flexible working hours, private medical subscription, flexible benefits package
You'll get to play with:
Vue.js (with Vuetify), JavaScript, TypeScript, HTML, CSS, REST API
You will need you to:
understand business and functional requirements
design and implement technical solutions
analyze and fix reported issues
follow quality and security standards
You need to have: 
Experience with Front-End technologies (Vue.js, Vuetify, JavaScript, TypeScript, HTML, CSS) – minimum 2 years
Knowledge of project estimation techniques
Passion for technology
Analytical and problem-solving skills
Apply now!
*Please note that by applying to this role you are being informed about your personal data being processed by Yonder.
You can find more details here: https://tss-yonder.com/privacy-policy/ .